Illustrations and artwork that color THE KNOT YOKOHAMA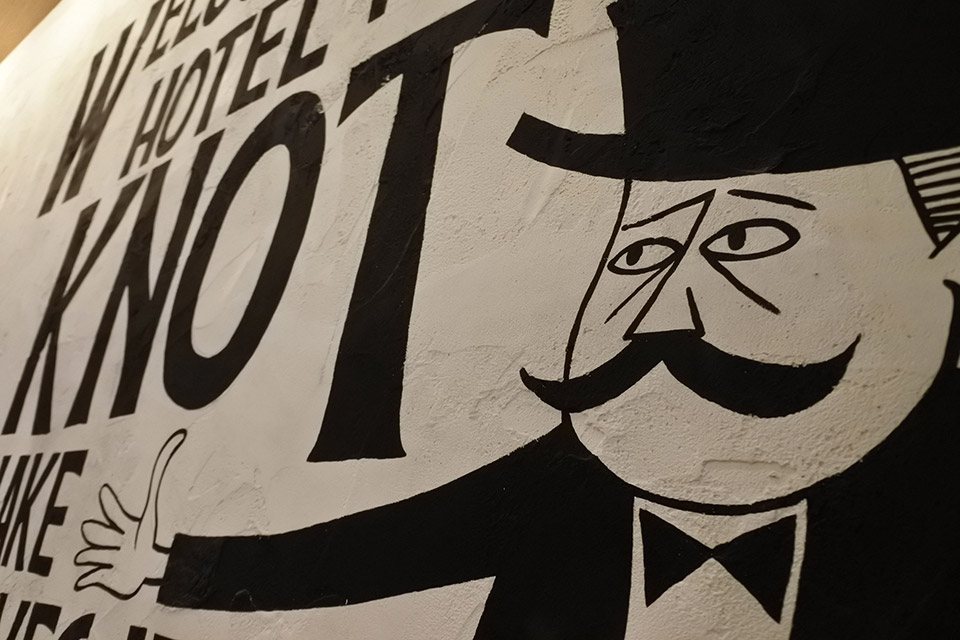 Yokohama-born Yusuke Hanai created an original character for THE KNOT, Mr. The Knot, who acts as a guide through the space. His presence on the walls doubles as a comforting artwork. Keep an eye out for him when you arrive.
Yusuke Hanai
Born in Yokohama in 1978.
Illustrator/artist
Begun exhibiting work in 2006 at The Surf Gallery in Laguna Beach, California. In the following year, he exhibited as part of group show, The HAPPENING, in New York, Sydney, Tokyo, London, and Paris. His style is heavily influenced by the counterculture of the 50's and 60's, and has formed a unique style that combines Japanese aesthetic sensibilities with retro American illustrations. He produces work for both domestic clients and abroad, including for Vans, Nixon, Beams, as examples.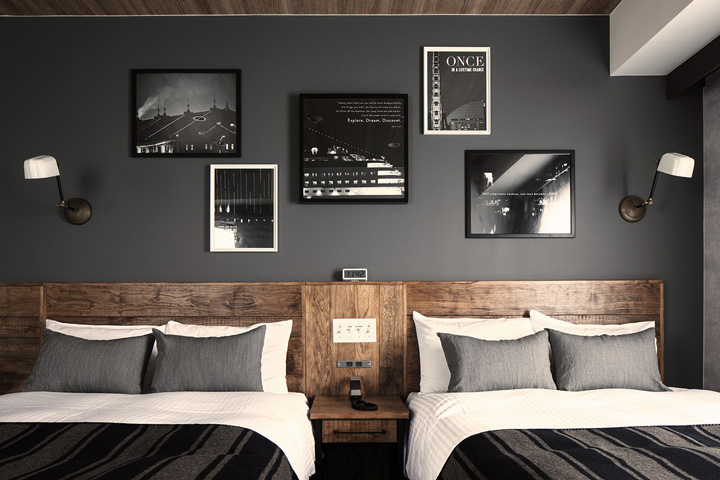 The theme of the photos on display in the rooms and in the main spaces is YOKOHAMA 24/7. From the perspective of photographer Kosuke Matsuki, the city is portrayed across the seasons, and from dawn to dusk. How many times can you see the same space captured in a different time throughout the hotel?
Matsuki Kousuke
Born in Osaka, Suita City in 1982.
Graduated from the Department of Photography, Faculty of the Arts, Osaka University of Arts (Hiromi Tsuchida's class)
After working at Banana Plantation Studio (now, Meguro Studio) and studying under Norio Kidera, he became independent in 2012.
Fuji Photograph Salon Rookie of the Year Award 2008, Encouragement Prize (Himeno Nozomi)
First Shiogama Photograph Festival, Phat Photo Prize
Plants that bring life to the facade and entrance
Works by Kei Amano of YardWorks
Landscape architect living in Yamanashi Prefecture
Uses plants as main tool to design exterior spaces and gardens, as well as store spaces, booth spaces and product design
As well as in his local Yamanashi, recently he has been working on gardens all over Japan and abroad, and in the summer of 2017 he opened THE SOIL by YardWorks as an office and concept store in his own garden.
With the vision to convey the positive impact that living with plants has on our lives, and to develop his plant-based artwork, he has done collaborations with apparel brands, and has also held solo exhibitions and events in Japan and abroad.