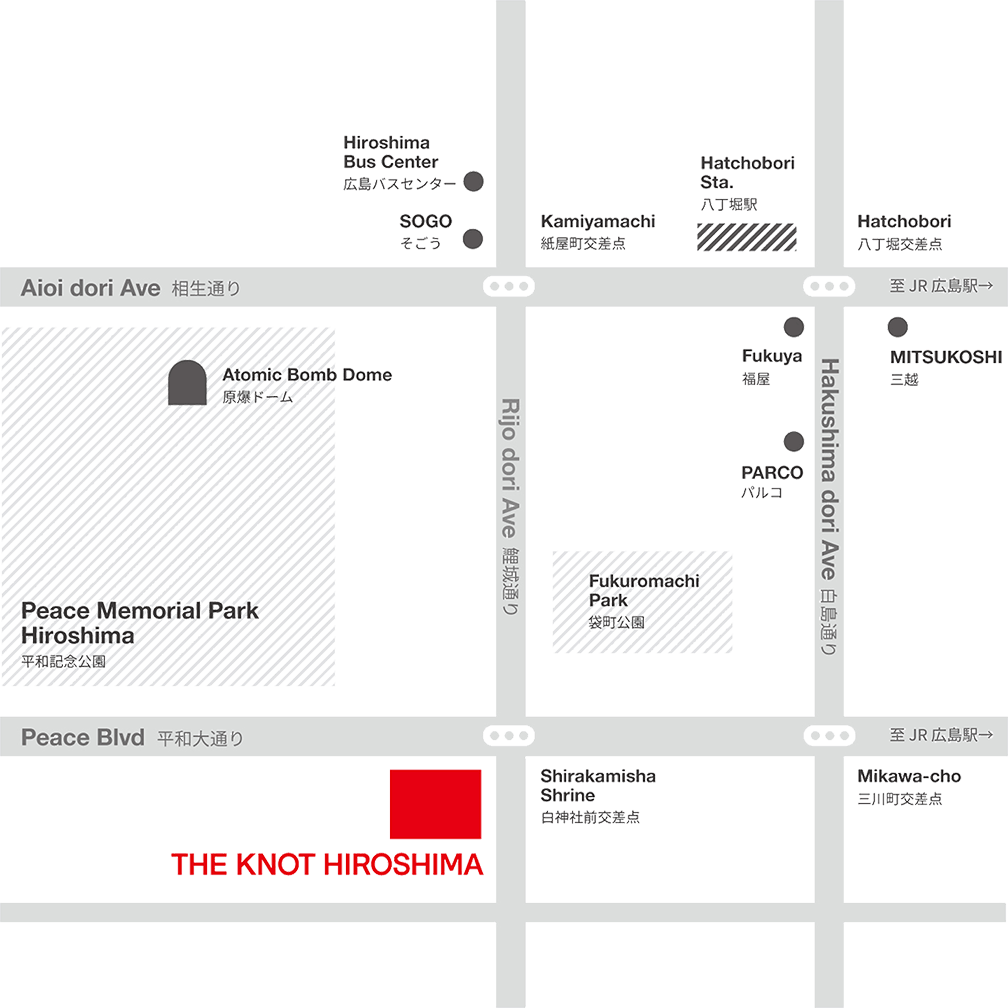 3-1-1, Otemachi, Naka-ku,
Hiroshima-shi, Hiroshima 730-0051
+81-82-545-1173
hellohs@hotel-the-knot.jp
Nearest Station
Hiroshima Electric Railway Line 1
Around three minutes walk from Chuden-Mae Station
Around three minutes walk from Fukuromachi Station
Hiroshima Bus
Around one minute walk from Hoso Kaikan Mae stop (broadcasting center)
From Hiroshima Airport
Around 55 minutes by Limousine Bus
(Hiroshima Bus Center direction)
Then around 10 minutes walk from
Hiroshima Bus Center
By Car
Around 25 minutes on Hiroshima I.C or
Hatsukaichi I.C
Parking map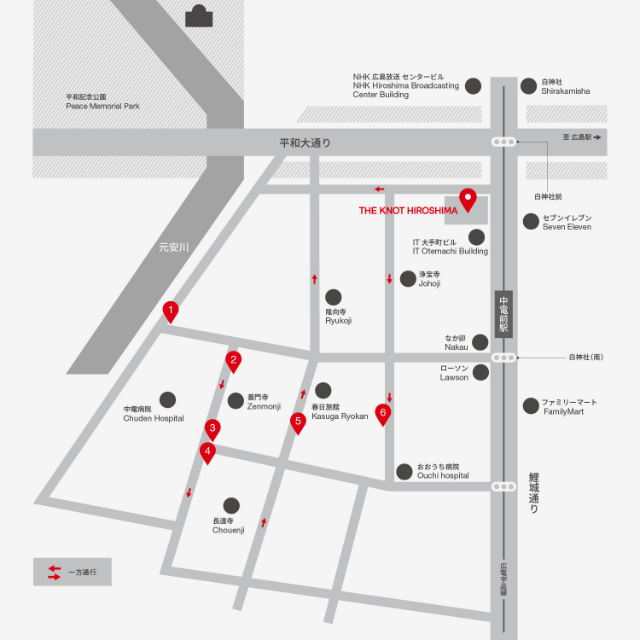 ■ Neighborhood parking lot
Name/Address
Walking
Distance
Spots
Available
Opening Hours
Fee (tax incl.)
Payment Method
Re-entry
Possible
Height
Limit

Times Otemachi Dai 10

3-3 Otemachi, Naka-ku
No phone number

2min
30
24h

【8:00~18:00】
¥220/30mins
maximum fee=¥1,430
weekends and public holidays=¥990

【18:00~8:00】
¥110/60mins
maximum fee=¥440

On-site cash payment

card payment available

No
-

SP Park Otemachi
3-Chome 4

3-5-10 Otemachi, Naka-ku
No phone number

3min
10
24h

【7:00~21:00】
¥220/30mins
maximum fee=¥1,400
weekends and public holidays=¥900

【21:00~7:00】
¥100/120mins
maximum fee=¥300

On-site cash payment

No
-

Otemachi 3-Chome
Parking

3-5-12 Otemachi, Naka-ku
No phone number

4min
30
24h

【8:00~18:00】
¥220/20mins
maximum fee=¥1,430
weekends and public holidays=¥990

【18:00~8:00】
¥220/20mins
maximum fee=¥990

On-site cash payment

No
-

Times Otemachi Dai 7

3-10 Otemachi, Naka-ku
No phone number

4min
10
24h

【7:00~21:00】
¥220/20mins
maximum fee=¥1,430
weekends and public holidays=¥990

【21:00~7:00】
¥110/60mins
maximum fee=¥330

On-site cash payment

card payment available

No
-

Repark Otemachi
3-Chome Dai 10

3-9-16 Otemachi, Naka-ku
No phone number

4min
28
24h

【8:00~20:00】
¥200/25mins
maximum fee=¥1,300
weekends and public holidays=¥900

【20:00~8:00】
¥100/60mins
maximum fee=¥300

On-site cash payment

card payment available

No
-

Master Parking

3-6-5 Otemachi, Naka-ku
+81-82-246-5708

2min
30

7:30-21:30
(Weekdays)

7:30-20:00
(Saturday)

7:30-18:00
(Sunday and public holidays)

¥150/30 mins

Hotel guests:
15:00 - 11:00 = ¥1000

* Please tell staff the name of the hotel on entry

On-site cash payment

No
1.55m
* The hotel shall not be liable for any issues such as accidents or theft that may occur in the above parking lots.
* Aside from the the affiliated parking lots fees may change so please confirm before parking.
* Some parking lots accept cash only. Please check in advance.